Sexy Second Act:
Remodeling Your Life with Passion, Purpose and a Paycheck®
"The job [or life] you seek isn't out there in some job description, it's already inside you, aching to get out."
~ John Tarnoff ~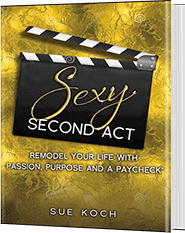 What life or career dreams do you have inside you that are aching to get out?
Unless you are living under a rock, or even if you are, you can't miss the fact that the world, as we once knew it, is gone forever!
Life is changing
Work is changing
Relationships are changing
How we live is changing
How we manage our health and well-being is changing
The bad news is that we can no longer take certainty for granted. If you are waiting for the world to return to the "normal" you've been used to, you are in for a big disappointment.
The good news is that you can design and remodel your life and career to fit a "new normal;" one that includes Passion, Purpose, and a Paycheck® You can bring forth the career and life dreams that have lived inside you aching to be set free.
There's no better time than now to remodel.
Right here and right now, you have an opportunity to accept the challenge to dream, design, and build your next – and sexiest – life stage yet. And if you are reading this, I believe you are ready.
I wrote Sexy Second Act: Remodel Your Life with Passion, Purpose, and a Paycheck®, because I experienced first-hand how hanging onto outdated ways of thinking about work and life were holding me back from how I secretly dreamed of living and working. Accepting the idea that it was time to remodel transformed my life in surprising and delightful ways I could not have anticipated or imagined.
I believe that you can transform your life or career, too.
No One Said Remodeling was Easy!
If you've ever remodeled a home, you know that some things are hard to let go of. As writer David Foster Wallace said, "Everything I've ever let go of has claw marks on it."
Remodeling your career or life feels a lot like that. It's messy from demolition to creation. It takes time and patience. Sometimes you wonder what you've gotten yourself into. Sometimes you think it's going to turn out all wrong and you are going to hate the outcome. Sometimes you want to give up.
But you persevere. You hang onto your dream, because you are committed to creating an outcome that will make putting up with the messy part worth the effort.
My book is designed to help you keep going through the process. With a combination of stories, exercises, and my personal insights and experiences, you'll start to let go of outdated ideas and demolish beliefs that hold you back.
You'll start to envision a sexy new future that aligns with joy, fun, enthusiasm, courage, and inspiration. You'll get excited about what's next for you in a way that makes you eager to leap out of bed every day with curiosity, enthusiasm, and a three-year-old's sense of adventure.
What Readers Say
Sue has a real gift for helping people understand how the world has changed and how we can thrive in the new environment. She makes it clear that there is so much more opportunity in our "second act" than previously known. She shows us that we can redesign our lives to pursue our passions with great rewards. Now, we can all pursue our unique, sexy second act. – Richard J. Ward, CFP
Here's what you'll learn:
You'll identify and transform outdated ideas and beliefs that hold you back from stepping into your dreams
You'll ignite your imagination about what's next for you in your Sexy Second Act
You'll get excited to step out of your comfort zone and take action with a sense of wonder, playfulness and adventure.
Remodeling Requires Desire, Imagination, and Commitment
This book is for you if you are ready to take a sassy, fun, and playful look at life's craziness as old systems we've lived with and relied on for decades crumble around us. And because we don't yet know what the new world will look like, we get to create it.
You can interpret that as being scary. Or you can interpret it as being exciting, exhilarating, and fun!
Why Not Call It Sexy?
Soul-stirring – Are you willing to experience a deep sense of connection to something bigger and wiser than you? Whether you call that connection Soul, Spirit, God, Higher Self or Higher Power, aligning with that energy brings you a profound sense of peace, joy, and satisfaction.
Evolutionary – Doing what you are meant to do gives your life meaning and transforms you in unexpected and delightful ways. You become more of who you authentically are.
X-citing! – You can't wait to see what adventures await! Even hard days are worth it, because you are living and working at something you feel passionate about.
Yours – Others may not understand what you are up to, and that's okay. Your journey to your Sexy Second Act is uniquely yours, and that's exactly what makes it sexy!
Sexy People Act
Buy now and begin your Sexy Second Act journey today!
Email a photocopy of your receipt or forward your purchase confirmation email to 

[email protected]

. Better yet, send me a selfie of you holding the book.
Book your complimentary 30-minute coaching session and jumpstart your Sexy Second Act!
Sign up to receive our monthly newsletter. You'll be among the first to learn about upcoming events and book signings.
I look forward to connecting with you!
Sign up to receive our monthly newsletter.
Get Acquainted with Sue and Her Book