---
Sexy Second Act:
Remodeling Your Life with Passion, Purpose and a Paycheck®

---
The limits of my language means the limits of my world.
~ Ludwig Wittgenstein ~
---
What If You Could Remodel Your Life or Career and Design a Sexy Second Act?
What kind of world are you building with your language? One that's angry, sad, and filled with doom and gloom? Or one that's sexy, and pulsating with aliveness, joy, contribution, fun, and thrilling possibilities?
It took me a long time to figure out that words are building blocks for designing and building your world. It started with a shock when I saw how I built a "woe is me" world filled with "woe is me" language.
It took work, but in an "aha" moment of clarity, I saw that I could remodel the world I had created by designing new language. In that moment, I made a conscious commitment to speaking in ways that led to building a healthier and happier world for myself.
It was one of the best choices I ever made. My world quickly began to transform from sadness to joy, hum-drum to fun, and aimlessness to purpose. It's been a miraculous journey from that day 'til now, and I look eagerly forward to each day's adventures.
The First Step is to Remodel Your Language
I wrote the book Sexy Second Act: Remodeling Your Life with Passion, Purpose, and a Paycheck®, because changing your language is FUN-damental to designing your Sexy Second A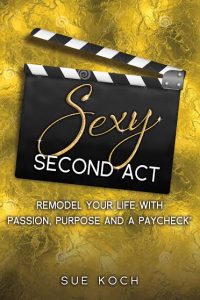 ct. The book takes you on a playful A to Z journey to help you identify and eliminate language that does not deliver the results you want and replace it with language that does.
Through stories and exercises, you'll learn to pay attention to your own inner dialogue and speak only language that supports the Sexy Second Act you dream of living.
You'll become aware of how the "committee" in your head, though well-meaning, stops you from pursuing the juicy and passionate life you deserve.
You'll learn how to override the "committee" by replacing energy draining language with juicy language that revs you up for success.
You'll learn to use juicy language to design a powerful, passionate, and playful Sexy Second Act – one that makes you want to leap out of bed every day and with the enthusiasm and sense of adventure of a three-year-old.
People who take action get rewarded. Buy the book. Email a copy of your receipt  to [email protected] to receive your a complimentary 30-minute coaching session and jumpstart your Sexy Second Act!
And please do sign up below to receive our monthly newsletter. By doing so, you'll be among the first to learn about upcoming event dates and book signings.
I look forward to connecting with you!
---